Past Projects
Comments Off

on Past Projects
"Let's Talk About it" Grand Erie District School Board Grade 8 Boys Conference (June 2011)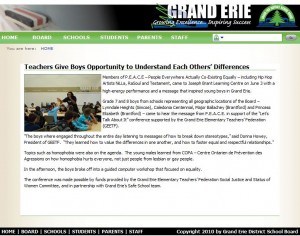 In the Rhythm of P.E.A.C.E.
Black History Month Assemblies a Great Success!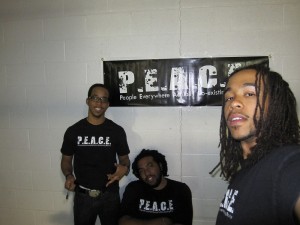 The PEACE Team is really excited about the success of the 2010-2011 Black History Month Assemblies.
Schools attended:
Vincent Massey Public School


"The presentation was engaging, the hip-hop connection kept the students interested and focused on the overall message"
"The freestyle portion gave the students' a voice and a platform to share their thoughts and words"
–Irene Yorke, Teacher
"I personally liked the way the trio put forth their message, mostly with skits and music. It made the assembly entertaining, as well of enlightening."
–Student, Vincent Massey P.S.
"This was my favourite presentation out of all my years at school, it was the best!"
–Student, Vincent Massey P.S.

High Bush Public School


"Students were still singing "I walk in the rhythm of peace, I talk in the rhythm of peace" for days! They all loved it, very engaging"
"We particularly enjoyed the Canadian connection and that it was all done through music and rhythm with the talking drum."
–Kyla Reimer, Vice-Principal Highbush P.S

John Dryden Public School


"Great performance…Positive message"
–Robynn Ripley, Vice-Principal John Dryden P.S.

Gandatestiagon Public School


"Excellent performance!"
"We enjoyed the celebration of Black History with a focus on Canada. Thanks for coming to Gandy and helping our students learn in such a positive, interactive and musical way."
–Betty Fancy, Vice-Principal Gandatsetiagon P.S.

Downsview Public School


"Very positive, Both students and Staff loved the energy you brought to the performance, the information, the message of P.E.A.C.E. and the involvement of the students"
–Melinda Laventhall, Teacher
We would like to thank all the students and teachers at the schools for their support and feedback.
We are looking forward to the 2011-2012 Black History Month
P.E.A.C.E.